Menu
Lakes
Our 20th Year
Dear friends and guests,
I couldn't have wished for a better 20th anniversary year. From achieving my dream of receiving a third Michelin star to being named the number one restaurant in The Good Food Guide and Chef of The Year at the National Restaurant Awards to securing the top spot for the UK in La Liste 1000 and the OAD 2022 Fine Dining category, I can't express how proud I feel. One thing is for certain, these successes would not have been possible without the support and drive of my team.
I want to take this opportunity to spotlight a few accolades that my team have received this year - Paul Burgalières, our L'Enclume head chef, was named the UK winner of the 'Le Taittinger' International Culinary Prize; Kayleigh Thorogood, our Rogan & Co restaurant manager, was nominated for as 'One to Watch' in this year's Staff Canteen awards, alongside the whole Rogan & Co FOH team who were nominated for 'Front of House Team of the Year'.
At the Cumbria Food Awards, Tom Barnes, our executive chef, took home the prize for 'Chef of Year', whilst Home by Simon Rogan received the 'Innovation of the Year', Henrock was awarded 'Hotel Restaurant of the Year' and I was completely honoured to receive the "Outstanding Contribution" award. Finally, Beth Sampson and Max Lawrence, both L'Enclume junior assistant restaurant managers, made it to the semi-finals of The Gold Service Scholarship 2023 and Max was also chosen as a finalist in this year's Royal Academy of Culinary Arts Annual Awards of Excellence. It just goes to show how talented our team is.
On top of all that, we marked this significant moment in the history of L'Enclume, through a series of collaborations with friends, old and new, including Reflections, our whisky made with The Lakes Distillery, the new cutlery at L'Enclume forged by the immensely talented Alex Pole and One Dish, our creative photography book which was masterminded by our photographer Cristian Barnett.
We also had the pleasure of travelling after a few years off. I was able to return to Hong Kong and spend some quality time with our teams over there. I feel privileged to have been able to speak at some of the hospitality industry's leading conferences including San Sebastian Gastronomika, Food on the Edge and Gastromasa. It was a complete joy to meet so many pioneering chefs and restaurateurs and discuss the future of our beloved industry.
Although this was definitely a year to remember, we cannot wait for 2023. We have a lot planned already and are excited to share all the details in due course!
Have a wonderful Christmas period, and we hope to see you in the new year.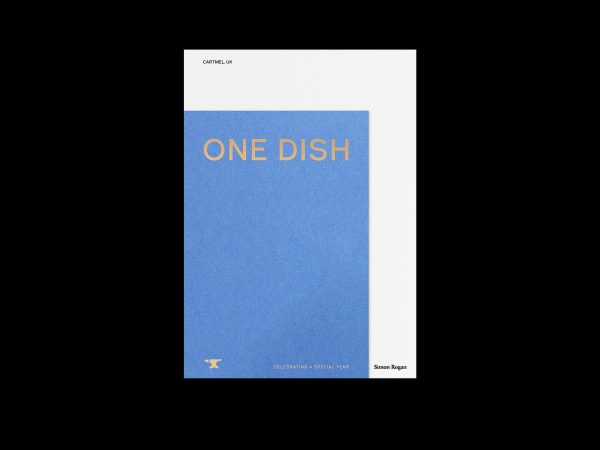 Books
£18.00
Buy